Posted by Jan Kocbach, 29 May 2012@8:00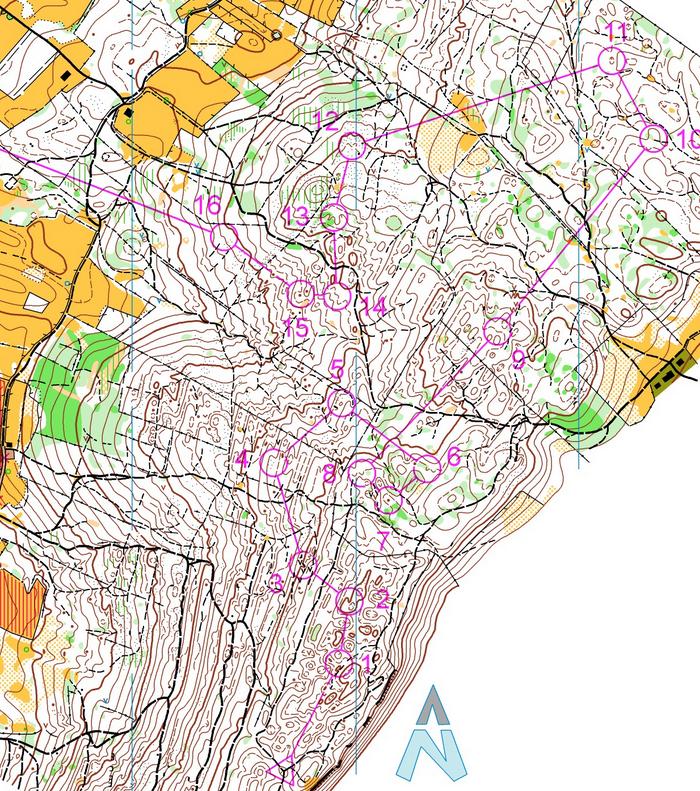 13 World Champions on the start list – two very WOC Middle relevant races: The '3 jours du Haut Jura 2012′ is a race worth taking a closer look at. Saturday's middle distance had Philippe Adamski and Sara Lüscher on top – Monday's middle distance had Mats Haldin and Helena Jansson on top.
These were training races for many of the runners, whereas it was a WOC selection race for France, Finland and Czech Republic – so you should not read too much out of the results. Still it is notable to see that European champions from last week in Sweden Olav Lundanes and Simone Niggli are beaten both days.
Lundanes says to the orientering.no that he did the biggest mistake of the year, and still does not understand what he did out there. Note however that Lundanes was faster than Adamski on the rest of the course – and that Adamski did not have a perfect race either.
GPS-analysis in 2DRerun
Open the links below to take a look at the race in 2DRerun:
Thanks to Francois Gonon and Matthieu Puech for preparing the race in 2DRerun.
Results Saturday
Men
  1. Philippe ADAMSKI       85  FRA                T.A.D.                35:02
  2. Frédéric TRANCHAND     88  FRA                OE42                  35:18
  3. Fabian Hertner         85  SUI                OLV Baselland         35:22
  4. François GONON         79  FRA                O JURA                35:36
  5. Jan Prochazka          84  CZE                                      36:00
  6. Jonne Lehto            84  FIN                                      36:44
  7. Olav Lundanes          87  NOR                                      36:57
  8. Audun Weltzien         83  NOR                IFK Göteborg          37:02
  9. Jere Pajunen           86  FIN                Kalevan Rasti         37:13
 10. Lucas BASSET           91  FRA                CSMR                  37:32
 11. Olli-Markus Taivainen  89  FIN                                      37:44
 12. Hannu Airila           85  FIN                Kalevan Rasti         38:08
 12. Baptiste Rollier       82  SUI                ANCO                  38:08
 14. Vincent COUPAT         86  FRA                OTB                   38:19
 15. Mats Haldin            75  FIN                                      38:30
 16. Stepan Kodeda          88  CZE                                      38:34
 17. Andreas Kyburz         88  SUI                OLK Fricktal          39:00
 18. Tero Föhr              80  FIN                                      39:13
 19. Philipp Sauter         89  SUI                OLG Chur              39:19
 20. Vojtich Kral           88  CZE                                      39:20
Women
  1. Sara Lüscher           86  SUI                OLC Kapreolo          34:35
  2. Simone Niggli          78  SUI                OLV Hindelbank        34:41
  3. Venla Niemi            90  FIN                                      35:07
  4. Helena Jansson         85  SWE                Leksands OK           35:15
  5. Katri Lindeqvist       80  FIN                                      35:22
  6. Saila Kinni            87  FIN                                      35:38
  7. Monika Topinkova       80  CZE                                      35:39
  8. Sofia Haajanen         87  FIN                                      36:20
  9. Vendula Klechova       81  CZE                                      36:25
 10. Rahel Friederich       86  SUI                OLG Basel             36:28
 11. Mari Fasting           85  NOR                                      36:45
 12. Amélie CHATAING        86  FRA                NOSE                  37:30
 13. Eva Jurenikova         78  CZE                                      37:31
 14. Minna Kauppi           82  FIN                                      37:52
 15. Bettina Aebi           90  SUI                OLG Herzogenbuchsee   37:56
 16. Dana Safka Brozkova    81  CZE                                      38:18
 17. Brigitta Mathys        90  SUI                ol.biel.seeland       38:21
 18. Lenka Poklopova        89  CZE                                      38:55
 19. Céline DODIN           79  FRA                HVO                   38:56
 20. Judith Wyder           88  SUI                OLG Thun              38:59
Results Monday
Men
  1. Mats Haldin            75  FIN                                      33:33
  2. Fabian Hertner         85  SUI                OLV Baselland         33:34
  3. François GONON         79  FRA                O JURA                33:51
  4. Baptiste Rollier       82  SUI                ANCO                  33:59
  5. Hannu Airila           85  FIN                Kalevan Rasti         34:07
  6. Philippe ADAMSKI       85  FRA                T.A.D.                34:16
  7. Audun Weltzien         83  NOR                IFK Göteborg          34:44
  8. Jarkko Huovila         75  FIN                Kalevan Rasti         34:53
  9. Andreas Kyburz         88  SUI                OLK Fricktal          35:13
 10. Florian Howald         91  SUI                OLG Herzogenbuchsee   35:17
 10. Martin Hubmann         89  SUI                OL Regio Wil          35:17
 12. Vincent COUPAT         86  FRA                OTB                   35:20
 13. Olav Lundanes          87  NOR                                      35:21
 14. Pavel Kubat            91  CZE                                      35:25
 15. Milos Nykodym          90  CZE                                      35:26
 16. Jonne Lehto            84  FIN                                      35:53
 17. Tero Föhr              80  FIN                                      36:08
 18. Jan Prochazka          84  CZE                                      36:17
 19. Jere Pajunen           86  FIN                Kalevan Rasti         36:20
 20. Matthias Kyburz        90  SUI                OLK Fricktal          36:37
Women
  1. Helena Jansson         85  SWE                Leksands OK           32:32
  2. Minna Kauppi           82  FIN                                      32:34
  3. Simone Niggli          78  SUI                OLV Hindelbank        33:22
  4. Rahel Friederich       86  SUI                OLG Basel             35:04
  5. Saila Kinni            87  FIN                                      35:36
  6. Dana Safka Brozkova    81  CZE                                      36:14
  7. Vendula Klechova       81  CZE                                      36:32
  8. Amélie CHATAING        86  FRA                NOSE                  37:06
  9. Sofia Haajanen         87  FIN                                      37:27
 10. Céline DODIN           79  FRA                HVO                   37:51
 11. Venla Niemi            90  FIN                                      38:02
 12. Isabelle Feer          90  SUI                OLG Goldau            38:04
 13. Katri Lindeqvist       80  FIN                                      39:02
 14. Iveta Duchova          86  CZE                                      39:07
 15. Denisa Kosova          91  CZE                                      40:03
 15. Sophie Tritschler      90  SUI                OLG Zürich            40:03
 17. Martina Seiterle       89  SUI                thurgorienta          40:28
 18. Eva Jurenikova         78  CZE                                      40:35
 19. Sara Lüscher           86  SUI                OLC Kapreolo          41:09
 20. Léa VERCELLOTTI        89  FRA                OTB                   41:18