Posted by Jan Kocbach, 17 Sep 2011@20:02
Victories to Jenny Johansson and Erik Rost in today's SM middle distance – GPS-data makes it possible to see how the races where decided. Very tight in the mens class – Jonn Are Myhren was only a second behind. In the women's class Johansson had more than a minute down to Helena Jansson in third.
Note that the times given below are from the the GPS data – thus not accurate to the second. Not much analysis is provided, but the illustrations give away some details – and there is of course also the full GPS tracking to watch.
Results A-finales
Mens class: Rost versus Myhren
Myhren looses around a minute at the second control (from the GPS illustration below it might look like it is on the long leg to number 3, but it is actually to number 2). He also looses nearly 40 seconds to number 8 by running to the right (again the illustration below lies a bit and says 66 seconds as the line is drawn after Rost has been at number 7). In the remainder of the course Myhren is faster nearly every meter, but in the end is one second late to beat Rost. Myhren is actually ahead at the last control.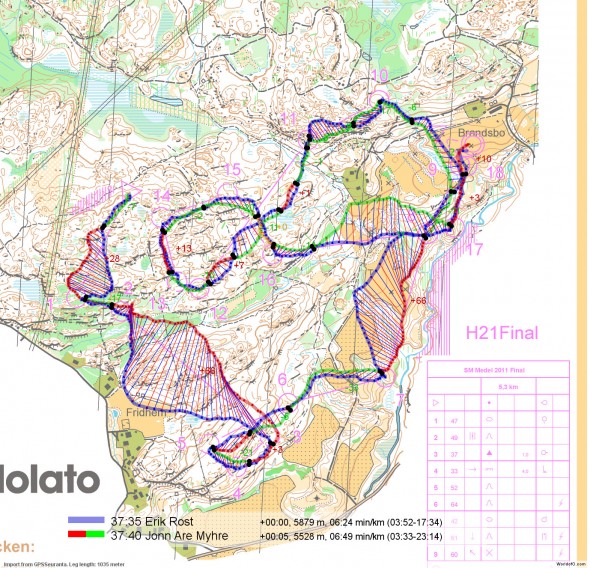 Click here to see full sized map.
Womens class: Johansson versus Jansson
Jansson runs faster, but looses time on several mistakes – the biggest ones being around a minute at number 11 and a minute at number 13. Also the same routechoice to number 9 where Myhren lost time – for Jansson it also cost around 40 seconds.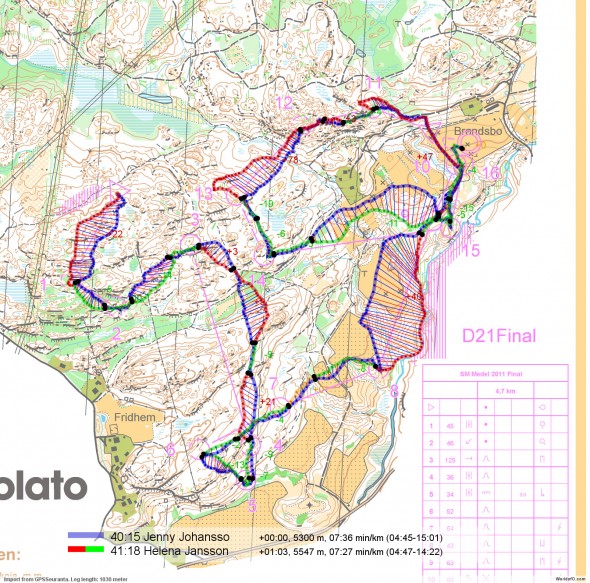 Click here to see full size map
Womens class: Johansson versus Jurenikova
Very similar route choices all the way – Jurenikova looses all the time she is behind around control number 12 – first on insecurity and then on a mistake.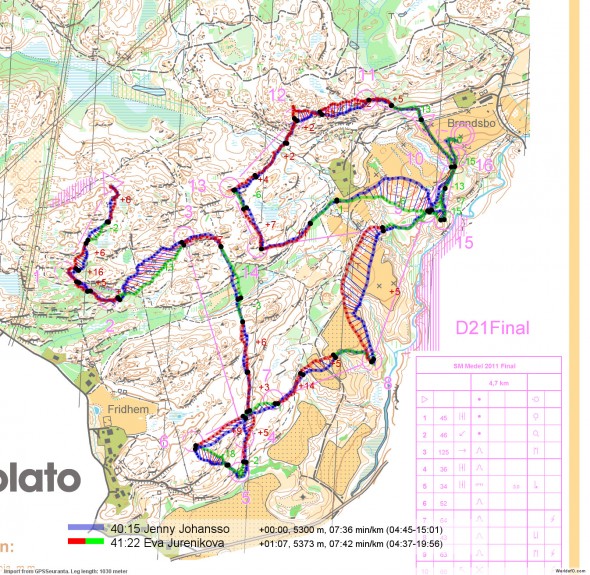 Click here to see full size map
Womens class: Johansson versus top 6
New type of illustration where the thought is to show all who are faster than Johansson on different parts of the course. Not quite there yet with this, but it has some potential.